Here our recommendations to help you extend the life of your garments and reduce the environmental impact of care processes. By following this guide, you can reduce wear and tear on your clothes and reduce the amount of water and energy you consume when washing, drying and caring for your clothes.
The washing machine gradually wear out the fabrics of the garments while consuming water and energy.  When the washing machine is not full, your garments will suffer greater wear out, but keep in mind that too full can cause them not to be washed well. By waiting for the washing machine to be full, we reduce the number of washes and therefore reduce the environmental impact.
SEPARATE CLOTHES BY COLORS
Separate clothes by color before washing. Classify it into white clothes (or pastel tones) and dark colored clothes. In the case of dark colored garments, it is convenient to use low-temperature washes, which also allows you to save energy. At the end of the wash cycle, remove it immediately avoiding it to remain damp, as the pigment could transfer to other garments staining them. When putting it in the dryer, start the drying cycle immediately.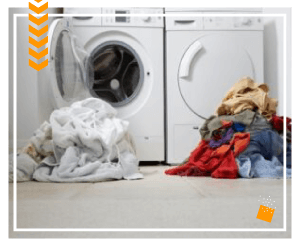 WASH COLD OR LOW TEMPERTURE WATER
Washing cold or low temperature water is more delicate with the garments, it does not shrink them, also it helps to maintain the colors and consumes less energy reducing CO2 emissions.
Choose Gentle Spin cycle in your washing machine and turn your clothes over before washing them, this will reduce the appearance of pilling (specks) and help to preserve their original appearance and last the life of your clothes.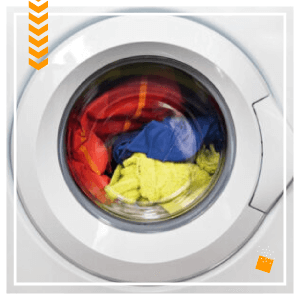 Remove promptly since by soaking your clothes you are wasting water that you really don't need. In addition, when leaving your garments soaking with detergent or soap for a long time, the color pigment can fall and the garment may lose its original color and appearance or stain it if the garment has two different colors fabric.
DO NOT USE CHLORINE BLEACH
Chlorine bleach is a fairly aggressive product, which weakens the fiber of fabrics, therefore it could break and consequently generate holes.
There is a false belief that the more laundry soap we add in the washing machine, the cleaner the clothes will be or they will have a better smell, but you only contribute to deteriorating and aging your clothes quickly, in addition to causing unnecessary damage to the environment by polluting the water. We recommend that you separate very dirty clothes from those that only need a short wash cycle and read the instructions on the manufacturer's package about the correct quantity of laundry soap to use. We suggest using liquid laundry soap.
The tumble dry consumes a lot of energy and increases CO2 emissions. In addition, drying at high temperatures negatively affects the original appearance of the garment: it loses shape (shrinks or enlarged), wears out the fabric, and causes pilling. Do not use it to dry delicate fabrics or thin fabrics clothes, it is better to hang them in the shade.